October 13 - 15, 2017 // San Francisco, CA
For those who have always deeply cared about the world around them. For the teachers, parents, entrepreneurs and creatives. For the activists, organizers and changemakers.
For those that don't fit into labels, but know that change is possible.
We are committed to leaving the world better than we found it. To becoming all that we already are and wish to be. To our individual and collective liberation.
Sometimes, that work includes burn out, exhaustion, pain, hopelessness and frustration. But there is always more work to do, so finding the space to get our own cups filled can be challenging.
The Make Change Happen Weekend is a 3-day retreat/training hybrid focusing on the inner and relational work (healing, care, growth) that's necessary for sustainably creating change in our communities.
The issues we're looking to change aren't new and weren't created by one person, so they won't be changed immediately by you or any one individual. But we do each hold power to create change and when we come together for support, envisioning and strategizing, our power is amplified.
You bring your visions for change, we'll bring some tools + resources and together we'll hold space for you and a group of 11 other caring, change-making folx to support you in more effectively make change happen in your everyday life.
What would you like to know first?
Click on each question to find your answers (or continue scrolling down and follow the path we've created). We want to give you space to make an informed decision that is aligned with your values, your desires and your bank account. If these questions don't satisfy what you'd like to know about this weekend, let us know and we'll answer you to the best of our ability!
If you'd looove to come or you're very interested, but can't make it this time, click here or scroll down to the bottom of this page! Let's make sure we stay connected and keep you in the loop about upcoming events (online and in-person).
During this weekend, we will:
– envision the change we wish to make happen (in our individual lives, work and communities)
– uncover the challenges we must address in order to move toward those visions
– dive into the connections between our inner worlds and systemic/cultural oppression
– learn a framework for recognizing and letting go of oppressive beliefs and ways of being
– create sustainable strategies for liberatory action and how to find support along the way
– get nourished though delicious food, connection with like-minded folx, laughter, play, truth-telling and space to be/breathe
How do I know if this is really for me?
– Are you an adult of any race/ethnicity, gender, sexuality, ability or disability?*
– Do you have a big desire to make a difference in your communities and are you looking for support on the how?
– Do you feel isolated in your efforts to create change?
– Are you looking for ways to make change happen in a way that's sustainable (because burnout, exhaustion and hopelessness isn't the way)?
– Do you want to unpack the ways you've internalized things like racism, classism, sexism, ableism, etc?
– Do you gravitate toward ideas like "justice, liberation, intersectionality, oppression, etc." but, right now, they feel more intellectual than embodied (more in your head than your body)?
– Are you open to learning, unlearning, growing and connecting with others?
If you said yes to any of these questions, we are cultivating this weekend just for you!
The Make Change Happen Weekend is going down October 13-15th in San Francisco!
Here's the schedule:
Friday
5:30pm - 9pm PST // Welcoming you in + laying the foundation for the rest of the weekend ( + a light dinner)
Saturday
9am - 6pm PST // Visioning, nourishment breaks, unpacking our external + internal challenges ( + 3 meals and snacks)
Sunday
8am - 4pm PST // Strategizing and planning for liberatory action and possible support systems + closing out ( + brunch!)
In order to cultivate a safe and brave container for you and others, we expect that you be present for the entire weekend. If you know that this won't be possible for you or that you'll have to leave the space occasionally (outside of already planning breaks), communicate that to us so that, together, we can figure out if this weekend is a good fit for you.
*This is a living schedule and is subject to changing before and during the weekend.
Let's talk food:
All meals are included! Please inform us of any preferences or allergies when signing up. Nourishment is a core part of this weekend, but so is healing, unlearning and getting free which can take a lot out of you. We want to make sure you're able to fill your cup back up and stay energized.
What about accomodations?
We know that we each have different needs when it comes to our home space (even when it's temporary), so we're leaving this up to you! You might be joining us from San Francisco proper, the Bay Area or from across the country (or world!). Either way if you'd like some support in finding a place to stay throughout the weekend (whether that be through Airbnb, hotels, Couchsurfing or being hosted by someone in our community) – we're here for you! Let us know what you need.
For reference, our meeting location is within the Haight-Ashbury neighborhood in San Francisco, CA.
Will the space be accessibile?
We're committed to making this weekend as accessible to your various needs as we can! Please inform us of your physical, spiritual or mental needs so that we can set up this experience to suit those.
What we know for sure: The location where we'll be spending most of our time requires that you go up a flight of stairs in order to enter. If this will be an issue for you, this specific weekend may not be right for you.
As we choose venues in the future, physically accessibility will be a top priority! If you'd like to attend an event like this, but the lack of accessibility is preventing you from doing so, please let us know at wholeselfliberation@gmail.com and we'll keep you in the loop.
How many people will be there?
The Make Change Happen Weekend is designed to facilitate an intimate experience with a diverse group of people.
At maximum, you'll be sharing space with a group of 11 others (plus your two hosts).
If you're an introvert or a highly sensitive person (we are too), we'll be utilizing tools like paired shares and small groups to help you cultivate more connection with other participants! We'll also consistently be reminding you to pay attention to and take care of your needs throughout the weekend.
It's $600 (or $650 with payment plan) to attend Make Change Happen. This includes the labor and love we put (and continue to put) into the content and workshops throughout Friday, Saturday and Sunday. ALL meals and snacks. Learning materials. Activities in the city. Support before and after the weekend (find out more in the next section)!
Payment Info //
We have two payment options:
Pay $600 in full
Pay two payments of $325 (billed out in monthly increments)
Pay three payments of $217 (billed out in monthly increments)***
*** The three payment plan option is only available for the early birds until September 9, 2017!
(We have a limited number of discounted spots specifically for those that hold marginalized identities. If this something you're interested in, send us an email with "MCH Discount" in the subject line at wholeselfliberation@gmail.com)
If you have the resources, we encourage you to consider giving more (+$25, +$50, +$75, +$100, etc.). These extra funds will make it possible for us to keep this work as financially accessible as possible. If you're down for this, let us know in the form you'll fill out after payment.
Your payment will be processed through PayPal, so we'll accept PayPal, Credit and Debit cards.
Cancellation/Refund Policy //
If you sign up, fully expecting to attend and you end up needing to cancel for serious reasons such as a mental, medical or family crisis, we're willing to give you a refund, switch you to one of our other offerings (individual coaching or online workshops or figure out another arrangement that works for you.
If you sign up and for ANY OTHER REASON, you'd like to cancel, then, unfortunately, you will NOT receive a refund. We are firm on this policy as it honors the work we put in to enroll and prepare for each person that signs up.
When you sign up, we see this as your commitment to showing up October 13-15th ready, excited and willing to learn! For your sake and ours, please don't sign up unless this is true for you! We trust that you know what you need. Thank you!
Are you ready to join us? Click here to be taken to the payment buttons.
What's happening before and after the weekend?
Before the Weekend //
Between now (when you sign up) and October 13th, you'll have opportunities to get excited and prepared for the Make Change Happen Weekend!
This will include emails, pdf workbooks, short audios and a connection call with one of your hosts, You'll also get access to our private Facebook group, just for you and other participants where you can connect with each other before hand, get any questions answered and share what you're learning from the materials we'll be sending out to you!
After the Weekend //
To us, the most important part of the experience we're creating here is: your integration. Meaning, we don't want this to be the kind of event you go to where you get some new insights or understandings and go back into your everyday life feeling SO GOOD – then a week later it's "life as usual." We hope that you take what you feel and learn on this weekend and truly put it into practice.
So Post-Make Change Happen, we'll be hosting 2 live group calls within a month of the weekend, where you'll be able to check in with us and other participants as well as get live support as you work to move you vision forward. You'll be able to continue to use our private Facebook group until December 1st (after that it will be archived).
For long term support we invite you to join us for our free, monthly Community Calls and/or participate in any of our other paid offerings like online workshops and individual coaching.
What is Whole / Self Liberation?
Whole / Self Liberation is a educational resource and movement that acknowledges the interconnectedness between personal liberation and social liberation.
WSL teaches and supports those that wish to influence their communities and integrate their social justice values into their work and everyday lives. We believe that social change cannot happen without inner change, and inner change affects social change. Our mission is to create spaces that cultivate healing, connection, growth and understanding in service of our collective wellbeing.
We offer workshops, online programs and retreats that bring us together because we believe that we are not meant to do this work of dismantling, unlearning, relearning, and growing in isolation. The only way we can get free is together.
WSL was cofounded by Cameron Airen and Andréa Ranae (who you'll meet in the next section!).
Who will be hosting this?
Cameron helps folks unpack gender expectations and norms, and explore and play with/without gender in a safe and brave way from a queer, intersectional feminist lens.
She is passionate about interviewing and elevating diverse, marginalized voices for her podcast, Real Feminist Stories. They love writing about intuition, how feminism and social justice are connected to personal growth, and taboo topics that we shy away from as a society.
Cameron uses she/they pronouns, lives nomadically, and is obsessed with American Ninja Warrior.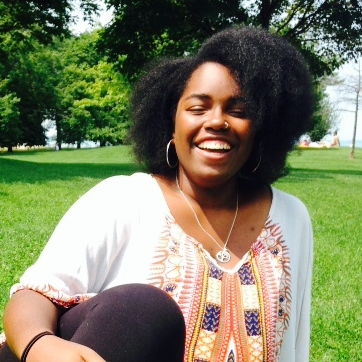 Andréa is deeply committed to doing her part in cultivating a world that works for everyone and does so by supporting others to recognize, own and share their power so that they can amplify their impact in their communities.
As the creator of Coaching as Activism, she supports people doing transformative work to deepen their impact by taking a critical look at how their work and lives are connected to social change. As a coach and consultant, she works with business owners and organizations that wish to be more inclusive and impactful in their work do so through their approach to leadership, their marketing and their company culture.
She's a huge fan of #blackgirlmagic, sunsets and HGTV.
I have a question, how can I get answers?
What's on your mind? Feel free to reach out to us at wholeselfliberation@gmail.com!
We'll do our best to give you the information you need.
I'd love to join in! How do I sign up?
Yay! We're so excited to have you.
Click on the payment option of your choice below to pay. If you'd like a reminder of the payment options click here.
After your payment goes through, you'll be redirected to an intake form where we'll ask you a few questions about who you are, what you're up to in the world and what your needs are during our time together!
Let's make change happen!
The deadline to sign up is October 1, 2017!
I'm totally interested, but can't come this time – keep me in the loop about upcoming events?